REFURBISHMENT EDUCATION PROJECT
Kennet School is an academy secondary school in Thatcham, Berkshire.
In 2011, Kennet was the highest achieving state school in West Berkshire using contextual value added results and third-highest using five good GCSEs.
Working in collaboration with Kennet School and Management Consultancy AA Projects, Hazlemere Commercial had to retain the existing steel framed sub-frames and pressings. Having attempted to install a pilot window, the consensus of professional opinion was that it was not feasible to remove the sub-frames and existing steel pressings.
Instead Hazlemere manufactured and installed new thermally broken aluminium double glazed windows within the existing sub-frames, and encased the existing sub-frames with new RAL powder coated aluminium pressings.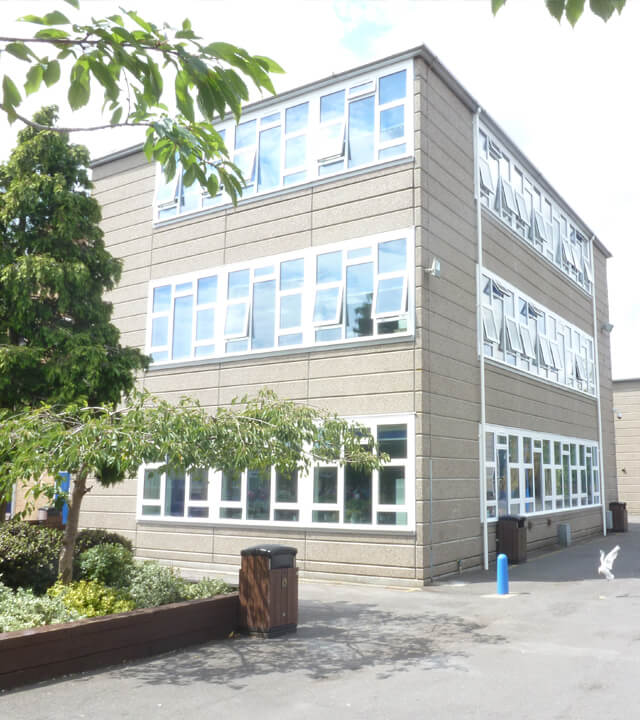 Hazlemere Commercial acted as principal contractor assisting with this successful CIF Bid right from the design stage onwards, overseeing the scaffolding and Teleflex companies, whose services were required in order to undertake and then make the new windows easy to operate by the school staff. Hazlemere also had to remove asbestos to the side of the lift shaft. The products that Hazlemere installed included RAL 9910 gloss powder coated Sapa Dualframe 75 SI aluminium casement windows, matching white gloss Sapa Stormforce ST commercial aluminium entrance doors, as well as some steel Fire Rated casement windows and Whitesales aluminium double glazed Rooflights.
Place your project in the safest of hands
Give us a call if you'd like an expert opinion on your project plans, we'd love to hear from you.