Hazlemere Commercial were engaged as the sub-contractor to Hamlet Homes Ltd, the main contractor and client.
The development is a prestigious block of luxury apartments, situated on the Bognor Regis seafront. Involvement from the initial design stages of this ground-breaking and distinctive project, with apartments that emphasize space and light, was a challenge that Hazlemere Commercial were proud to meet. In particular, the distinctive curved tower required specifically designing in order to meet the Architect's design requirements.
Many different Sapa aluminium fenestration products were used on this new build project overlooking the English Channel. These included Sapa Elegance 52 aluminium double glazed curtain walling for the iconic curved feature tower, Sapa Dualframe 75 high performance aluminium residential doors to each apartment balcony, Sapa 57 aluminium casement windows and Sapa 55 aluminium tilt and turn double glazed windows, as well as Sapa 202 commercial aluminium entrance doors to the main entrance.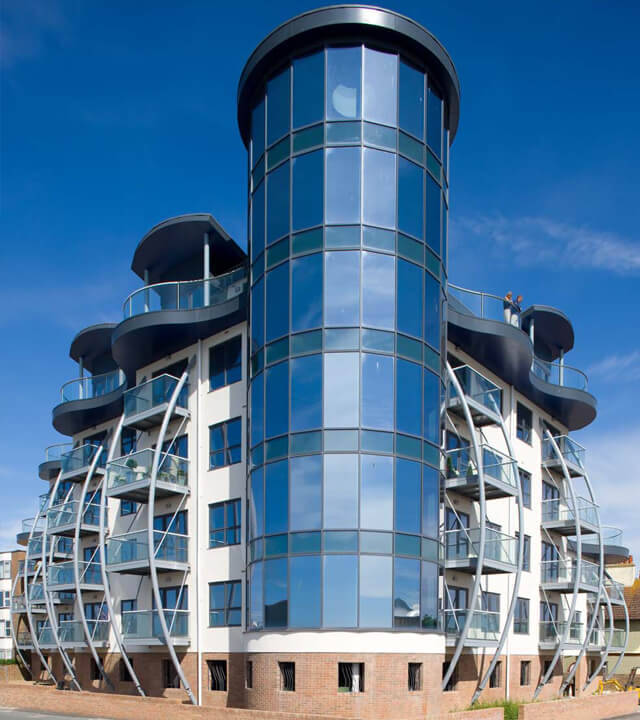 Bespoke design of this nature, often challenging to the industry as a whole, is an area in which the Hazlemere Commercial team excels. Due to the environmental conditions implied by its seafront location, the Sapa product required a marine finish. This was complemented with Pilkington sun-cool active glazing – a very high performing, solar control and self cleaning product.
Place your project in the safest of hands
Give us a call if you'd like an expert opinion on your project plans, we'd love to hear from you.